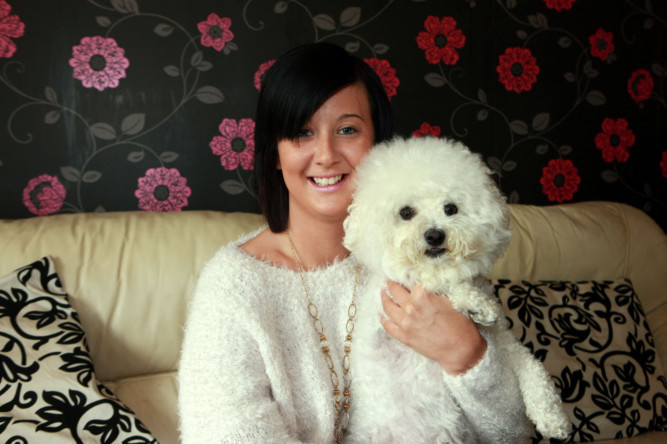 There were cute faces and waggy tails galore and now the Tele can announce the winner of Pets Factor 2014.
Samantha Glennie, 26, and her supportive dog Barney, have been chosen as our overall winning contestants.
Samantha, from Ardler, said: "It's great news, he's never won anything before. I've entered him into a few competitions, but nothing as big as this. It's put me in a great mood and it's really cheered up my day."
After losing the use of her right arm last year when a surgical operation went wrong, the nurse found herself suffering from complex regional pain syndrome.
But looking after her Bichon Frise Barney, aged two, has prevented Samantha from getting too depressed.
She said: "I have a rare surgical complication, CRPS, which is to do with the nerves. It's chronic pain, where even a gentle touch can be incredibly painful, and it's constantly swollen.
"I'm on a lot of medication. Barney helps me cope by running around mad and making me laugh. He cheers me up when I feel down."
Samantha will be splitting her prize, receiving a £150 cheque and £100 worth of pet vouchers.
This is so that she can use some of the money to pay for flea and worm treatment, both for Barney and for a new dog, Terry, her mother has just adopted from Romania.
Samantha said: "We went to Romania together in June and now mum's adopted this little terrier with an apricot coloured coat. He's due here in two weeks, so he'll be getting treated when he arrives in the country."
Along with his own worming, Barney will get a new bed and lots of pampering.
This is because, although she keeps him in good health, Samantha struggles to groom and wash him with only one arm. She said: "He needs to be professionally groomed, but it costs quite a lot of money. Getting his hair cut and washed too, because his hair goes a bit wild.
"I will now be able to get him groomed."
When Samantha is out at work or having hospital treatment Barney is looked after by her grandmother, to ensure he isn't left on his own.
"Somebody's always with him," said Samantha. "When I come home from work, and I only work part-time, I take him out for a walk and play with him. I also take him round to my mum's, so he's very well loved.
"I didn't think he'd get as far as he has and I certainly didn't think we would win, because there were so many entrants. He deserves it."
PDSA veterinary surgeon Fiona McLeod was a member of our judging panel and explained why Samantha and Barney had been her top pick of our five finalists.
Fiona said: "Congratulations to Samantha and Barney on winning the Evening Telegraph's Pet Factor competition.
"It's great that Barney helped Samantha through her difficult year last year.
"Dogs like Barney bring happiness to people when times are tough and provide companionship.
"The PDSA is very grateful to the Evening Telegraph for choosing them to be their charity partner and we invite Tele readers to come along to our open day tomorrow to see what goes on behind the scenes at the PDSA Pet Hospital at Hawkhill, Dundee."
The PDSA will receive a donation from Evening Telegraph readers as a result of the competition.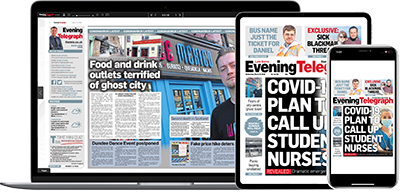 Help support quality local journalism … become a digital subscriber to the Evening Telegraph
Subscribe