A national requirement to find early learning places for children of "workless" families in Fife is challenging but vital to break the cycle of deprivation and give children the best start in life, according to Councillor Bryan Poole.
The strategic spokesman for education, children, young people and families on Fife Council spoke as preparations continue to accommodate all eligible two-year-olds for Early Learning and Childcare as part of the Scottish Government's Children and Young People (Scotland) Act.
This states two-year-olds who are from "workless families", including those looked after by the council or who are cared for under a kinship care order, will be eligible for early learning and childcare from October.
The overall aim is to not only provide more flexible early learning and childcare of 600 hours a year for three and four-year-olds but to provide much needed support to "workless families", encouraging parents back to work and opening up more opportunities for Scotland's most vulnerable children at an earlier age.
Introduced seven months ago, the change brings many challenges for councils across Scotland.
Fife Council has taken a proactive stance, asking parents of two-year-olds to come forward to check if they are eligible and, through a phased programme of work, aims to meet the estimated target set by Scottish Government.
Mr Poole said: "Implementing change on this scale is complex and is not to be underestimated. In Fife, a considerable amount of work and consultation has already gone into preparing for the change in hours, which will see all three and four-year-olds receive an additional 125 hours of early learning and childcare per year.
"This is vital in our battle to break the cycle of deprivation and give children the best start in life."
Area education officer Carrie Lindsay said: "We don't want anyone to miss out we are ensuring we have the capacity and suitable accommodation within each local area."
Application forms and information are available from any Fife Council nursery and online via Fife Direct.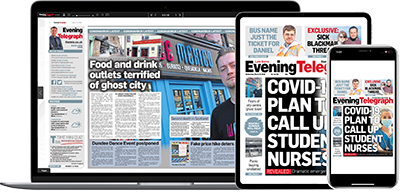 Help support quality local journalism … become a digital subscriber to the Evening Telegraph
Subscribe