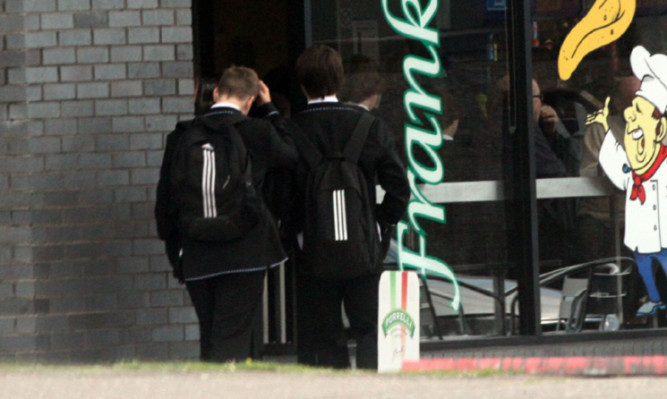 The 'traditional school dinner' conjures up classic images of sloppy mashed potato or lumpy custard.
But despite vast improvements in the quality of food on offer, parents in Dundee believe some schoolkids are still snubbing the much healthier, modern version of their school lunches because there is a stigma attached to accepting a free meal.
New figures show a quarter of all pupils in Tayside schools who are entitled to free lunches don't take them.
Kay Wilson, chair of Morgan Academy Parent Partnership, believes the lure of the fast food takeaway and the unfair image that free meals have are among the reasons Tayside's school pupils are continuing to eat elsewhere despite parents being happy with the "excellent" meals on offer.
She said: "We went along to sample school dinners and were very impressed."
Kay says some parents may not take up their free school meal entitlement because they feel there is still a stigma attached especially at secondary level.
"Of course there is always the lure of the local chip shops which probably take some children away," she added.
"I would hope when free meals are available to all children in primaries one to three this would go some way to removing any perceived stigma."
A report by Tayside Contracts showed last year 1,093,411 school lunches were bought throughout the region but there was only a 74% uptake from pupils entitled to free meals.
That was despite ongoing attempts by the firm to provide nutritious and appealing meals, according to a report from the organisation's chief executive.
Iain Waddell said that at primary school level the organisation had developed a new online menu system. The secondary school menu was recently revised following consultation with pupils.
"The interactive online menu system for primaries allows teachers, parents and pupils to view all recipes, nutritional information, ingredient specifications and allergy advice."
He said that following consultation at secondary schools they had introduced new food concepts and had changed their food packaging to keep it in line with what can be found on the high street.
Mr Waddell said mobile catering units installed at six secondary schools throughout Tayside had also proved very popular with sales to pupils who might normally go outside school for dinner. He stressed the mobile units were not thought to take pupils away from school dining rooms.
Mr Waddell said a major change in school dinner provision would take place in January when all children in primaries one to three would be entitled to a free school meal as part of a Scottish Government initiative.
"Tayside Contracts welcomes this and we are working with education departments to address the challenges this will bring."
Dundee City Council's education convener Stewart Hunter could not explain why a quarter of pupils didn't take up their free meal entitlement.
He said: "We would encourage parents who are entitled to apply for free school meals to do so. Pupils and parents have the right to choose but there is a great meal choice available."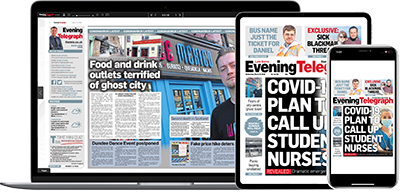 Help support quality local journalism … become a digital subscriber to the Evening Telegraph
For as little as £5.99 a month you can access all of our content, including Premium articles.
Subscribe