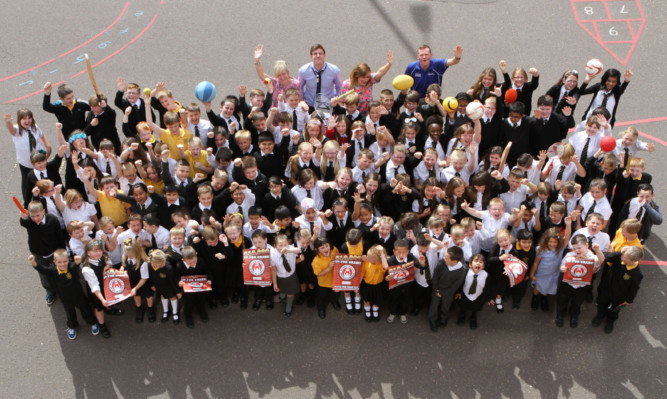 You can help give your kids a sporting chance by winning hundreds of pounds for their school sports!
The Evening Telegraph has 10,000 to give away in our Sport In Schools campaign and to win the most money, you just need to collect the most tokens.
From next Monday we will be printing tokens in the Tele every day during September.
All you have to do is collect them and give them to your child's Active Schools sports coordinator these are people who visit schools every week to teach them different sports.
The more tokens the school receives, the bigger slice of the 10,000 they will get and, in turn, the more sports equipment and more opportunity for the kids to take part.
This can be for anything, from new team strips or to pay for teams to take part in events with other schools.
We are working with SportScotland and the Active Schools initiative to encourage more sporting activity in all schools around our circulation area.
This is because we believe it is important our children have the best possible equipment and the best possible chance for a healthy active lifestyle.
Our campaign is open to all schools that have Active Schools coordinators who come along and provide sporting activities.
And any school within our circulation area not covered by Active Schools, but that would like to take part, can contact smathieson@dcthomson.co.uk for details.
Andy Garnett, Active Schools lead coordinator in Angus, said: "The role of Active Schools is very much to get kids involved in playing and participating in sport through linking local sports clubs and organisations and to give them as many opportunities as possible over and above the sport they receive in PE.
"We want to get kids into the habit of having a healthy lifestyle and to know what is on in their area.
"The people involved are mainly volunteers we have teachers, parents, students and coaches who all help out but it's important we have the ability to get the right equipment.
"Campaigns like this can really help.
"Sometimes, if it is a new club you need to buy racquets or bats or balls, often it's about having the right equipment before you can give kids the opportunity to have a go.
"As well as equipment, sometimes you need to buy uniforms or even to pay for kids to go to an event.
"We also have young volunteers we can put through qualifications to help them move forward with coaching."
Every coordinator will receive a cheque, but how much that cheque is for will be determined by how many tokens they collect.
Don't worry if your child's school is not as big as others you just have to be better at collecting to get your school more of the prize fund.
More tokens mean a bigger percentage of the pot!
The money will be reserved solely for the improvements to sports facilities and to help out the sports coordinators in their work to improve the lifestyles of our children through sport.
The 10,000 prize fund is not part of any funding or budget that schools receive the Evening Telegraph is putting up this money and all you have to do is collect to benefit.
The first token will be in the Evening Telegraph next Monday and there will also be bonus token days throughout the month so keep an eye on the Tele to make sure you don't miss any!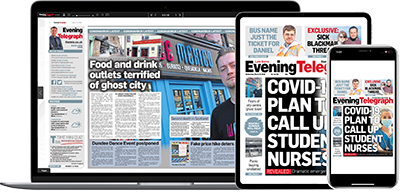 Help support quality local journalism … become a digital subscriber to the Evening Telegraph
For as little as £5.99 a month you can access all of our content, including Premium articles.
Subscribe