An in-house care service for vulnerable people is to be retained by Fife Council despite claims out-sourcing the entire service to the not-for-profit sector could save the council money.
A report outlining five different options to provide care for adults who need help to live independently was presented at Fife Council's executive committee.
The report on the accommodation with care and housing support service also highlighted the significant programme of communication and consultation involving in-house service users, their families, carers and staff.
With 76% of care service delivery already externalised to the not-for-profit sector in Fife, Conservative group leader councillor David Dempsey, seconded by Conservative councillor Dorothea Morrison and backed by Liberal Democrat group leader councillor Tim Brett moved that the entire service should be externalised to ensure best value.
He said it was "illogical" for the council to suggest otherwise at a time when it was trying to plug a 92 million budget black hole. He accused the council of putting "dogma before common sense".
Fife Council's executive spokesperson for community health and well-being, Labour Councillor Gavin Yates seconded by Councillor Linda Erskine and backed by SNP members said the council should maintain a "mixed economy".
He said keeping part of the service provision in-house was therefore the way forward. He also said savings were being proposed. The Labour motion was successful, passing by 15 votes to two.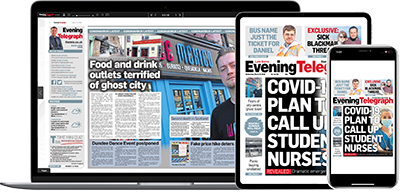 Help support quality local journalism … become a digital subscriber to the Evening Telegraph
For as little as £5.99 a month you can access all of our content, including Premium articles.
Subscribe