A little girl's bravery in the face of a life-threatening illness has inspired a team of hair stylists to put their courage to the test.
Eight-year-old Katie Davidson is fighting Ewing's sarcoma, a type of childhood bone cancer.
The Fife youngster, a pupil at Thornton Primary, is undergoing gruelling chemotherapy, which has seen her spend weeks sick in hospital and lose her hair.
To give her a special treat, staff at Alison Stewart Hairdressing, where her aunt Nicki Harley, 32, works, are to perform a fundraising bungee jump. The leap on September 28 will raise money to help send Katie, who lives in Thornton with mum Alana Elphinstone, 30, and twin brother Hamish, on a family holiday.
Alana said: "It's totally overwhelming I never expected anything like this."
Katie was diagnosed with localised Ewing's sarcoma in January and began intensive chemotherapy, which left her weak and susceptible to infection.
She spent several weeks in and out of Edinburgh's Royal Hospital for Sick Children and required a blood transfusion at every session. Her chemotherapy continues, but on a lower dose.
As well as the bungee jump, Alison Stewart Hairdressing is holding a fundraising ball with dinner and an auction on October 19 at Balbirnie House Hotel.
Tickets are available from the chain's salons.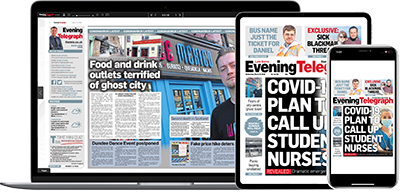 Help support quality local journalism … become a digital subscriber to the Evening Telegraph
Subscribe