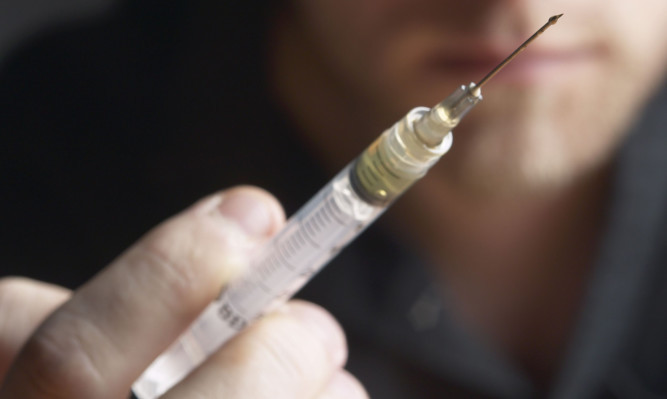 World-leading treatment is being provided for hepatitis C patients in Tayside, according to a new report.
Figures show that 120 people were treated for the disease in the region last year around 7% of the chronically-infected population.
That put Tayside on a par with France, which leads the world in treating the illness. The Scottish average is 3%.
Leon Wylie, lead officer at Hepatitis Scotland, said: "There are really encouraging things happening in the testing and treatment of viral hepatitis in Tayside and across Scotland.
"We have new more effective treatments and we have increasing numbers of people getting treatment (nationally from 468 cases in 20072008 to 1,052 cases in 20122013).
"Tayside has been at the forefront in implementing innovative ways to increase numbers of those tested and for providing greater and easier access to hepatitis C treatments."
Hepatitis C is a virus that affects and damages the liver. The disease is most common amongst drug users as it can be spread through infected blood, meaning shared drug paraphernalia increases risk.
It is estimated that nine in 10 cases of hepatitis C is caused by injecting drugs. Many people are unaware that they have Hepatitis C as normally symptoms don't appear until the liver is damaged and the disease is often mistaken for another condition.
Mr Wylie said: "Scotland's hepatitis C action plan is increasingly being hailed as a world-leading approach and experts from Scotland are currently contributing to the development of national programs in European countries and further afield.
"At one time, many people in drug treatment were excluded from hepatitis treatment, which meant that their condition was deteriorating.
"Pioneering work led by Tayside clinical lead Dr John Dillon is seeing people in drug treatment and with existing drug problems getting treatment while at the same time preventing new infections.
"This can be of huge health benefit and also motivate and help people deal with their other problems, including drug problems."
The treatment figures are contained in a report by NHS Tayside.