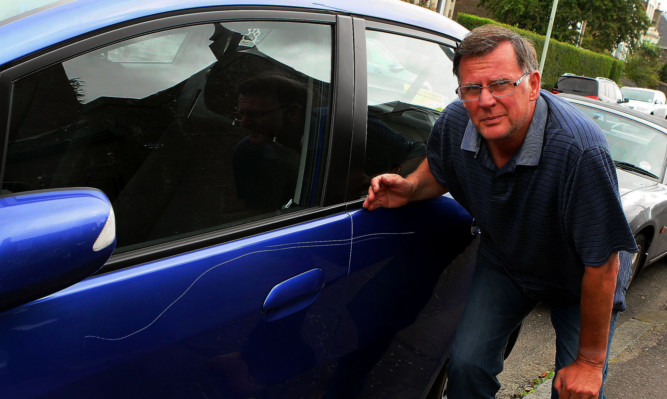 A teenage vandal is being sought by police after being seen scratching a car on Friday night, when thousands of pounds worth of damage was caused to dozens of vehicles in Dundee.
The vandalism saw around 30 parked cars scratched in streets around the city's Law area shortly after 9.30pm.
The teenager, described as being a male in his late teens, of slim build, around 5ft 6in and wearing a bright blue hooded top and grey bottoms, was seen scratching a car parked in Inverary Terrace.
It is understood a resident saw the act and called police, but the male was not traced. However, further police investigations found dozens more vehicles had been damaged in nearby Albany Terrace and Rankine Street. A yellow Fiat was targeted in Inverary Terrace, with a microwave oven apparently being thrown through its rear window.
Alan and Valerie Kerr, of Inverary Terrace, will have to pay two insurance excesses after their cars, a Mazda MX5 and a Honda Jazz, were damaged. It is thought the repair bill will come to more than 1,500.
Mr Kerr, 62, said: "I was out walking the dogs at about 1am, but you don't see anything in the dark. The police said about 30 cars were damaged here and in Albany Terrace. I walked along and virtually every car you saw was scratched.
"It's the first time it's happened to us, although I had a car stolen from out here a few years ago.
"The excess alone will cost us hundreds.
"If you caused 10,000 worth of damage to a house or something you would get the book thrown at you, but because it's all spread out I don't know what will happen if they get somebody for it."
Mr Kerr's neighbour, Harry Timmons, said while his car had escaped any damage, he had suffered vandalism to his vehicle last year. He said: The door was scratched and that cost 450 to repair. The insurance paid, but I had to pay the excess and then your insurance goes up the next year, too."
A police spokesman said around 30 vehicles were reported as being damaged.
Anyone with information is asked to phone 101 or speak to any officer.