Go explore! That's the message from Fife Council, NHS Fife and partner organisations as they launch a new website featuring a host of free things to do across the region.
It forms part of Fife's Take Time campaign to encourage activities which help give children the very best start in life.
Exploring is deemed to be vital to a child's development and aids skills such as problem solving, and learning new words and sparks the imagination.
It has a wealth of information on services which can help little ones flourish.
Many activities are free, including den building, bug hunting and craft workshops, as well as a host of places to visit across Fife.
Fife Early Years ambassador Willie Campbell said: "Doing activities together can create shared experiences and learning which lasts a lifetime.
"Take Time to Explore is about being adventurous and trying new things such as going to a beach or park you've never visited before."
Fife Council education spokesman Bryan Poole said: "We know the pace of modern life is hectic, but we are making it easy to find activities which families can enjoy together. Perhaps families could drop us a line to tell us what new things they have discovered while out exploring the kingdom that could help bring children on."
NHS Fife executive lead for children's services Scott McLean said exploring outdoors was an excellent way of improving children's wellbeing and physical health.
"Not only is a visit to the park, beach or countryside a great day out, physical activity also develops balance, flexibility, coordination and increases strength," he said.
Launched in December 2013, the campaign so far has included Take Time to Cuddle and Take Time to Play. More information can be found at fifedirect.org.uk/families.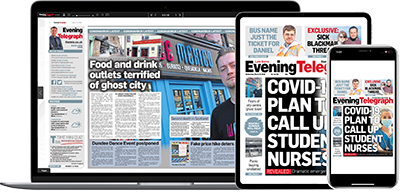 Help support quality local journalism … become a digital subscriber to the Evening Telegraph
For as little as £5.99 a month you can access all of our content, including Premium articles.
Subscribe