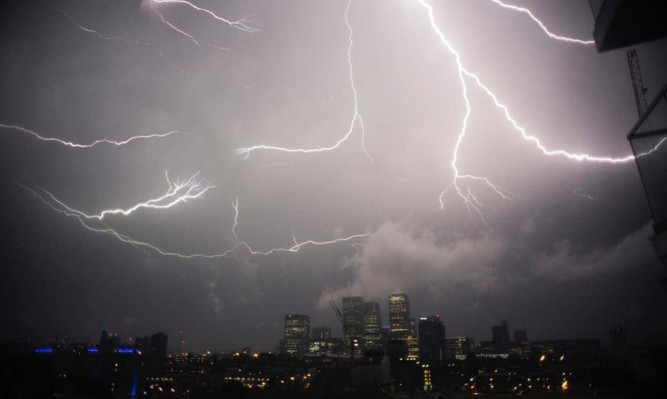 Weather experts have warned people in Tayside to brace themselves for some rough weather this weekend – with thunderstorms, torrential rain and even HAIL forecast over the next few days.
Forecasters have put in place an amber warning for the region on Saturday and Sunday as warm air – dubbed 'the Spanish Plume' – heads north from England.
Some experts are predicting some "intense thunderstorms" in Tayside, similar to those seen in the south-east of the UK over the past few days.
The forecast will make worrying reading for those attending the Rewind music festival in Perth over the weekend.
A spokeswoman for the Met Office said: "As you head through into the evening tonight, you may see some showery weather in Dundee.
"Through the night, the cloud thickens and there will be some wetter weather coming up from the south of England.
"Some of that will reach Dundee in the early hours of Saturday morning.
"Saturday is then fairly dry until the next band of rain reaches Dundee and you will be more likely to see thunder and lightning and heavy showers.
"There is an amber warning for the area on Saturday due to the two fronts making their way up from England.
"There is more risk in the afternoon with the possibility of torrential rain, thunder and lightning and some hail.
"If they downpours persist, you may see some surface water flooding in the area.
"There is another warning in place on Sunday which covers the east coast.
"Again there is a risk that some of the weather could be thundery.
"As we move through Sunday, the showers pass through and it looks like a fairly dry picture for the rest of the day and into Monday.
"If there is a break in the cloud on Monday then we could see some sunshine.
"One of the problems is that the overnight temperature in the region is quite high, around 16C.
"There isn't much difference between daytime and nighttime temperatures.
"Although Tayside won't see the same temperatures as the south-east, there is a risk that there could be the same intense thunderstorms in Dundee."