Lightning, heavy rain and even hail have been forecast for the start of Rewind Festival.
Met Office forecasters have issued a yellow "be aware" warning for the region on Saturday and Sunday.
A spokeswoman said: "Areas of heavy, thundery showers may develop over England and Wales from Friday night before moving northwards into Scotland later on Saturday.
"The development of these is uncertain but, where they do form, some torrential downpours are possible with frequent lightning, large hailstones and strong gusts of wind.
"Not everywhere will see a storm, but where they occur torrential downpours are possible with lightning, hail and locally strong wind gusts."
"We don't know exactly where these showers are going to fall, but Fife, Perthshire, Angus, Kinross and Dundee are smack bang in the middle of the warning area."
The bad weather is due to a body of warm air travelling up from the north west of Europe known as the Spanish Plume.
The spokeswoman said: "Basically it's going to bring with it these thundery downpours and with thundery downpours we do get a chance of hail."
Although there will be periods of sunshine over the weekend, the humid temperatures are expected to bring thunder and lightning.
The spokeswoman said: "On Saturday we're looking at sunshine and showers.
"Some of those showers could be heavy, and we could see some thunder."
Temperatures start off cooler, but increase over the weekend.
While on Friday the maximum will be around 17C, by Sunday there could be highs of around 21C.
"It's going to be cool along the coastline," added the spokeswoman, "but inland it should be fairly warm.
"So the weekend should be warm and humid, with the possibility of some thunder."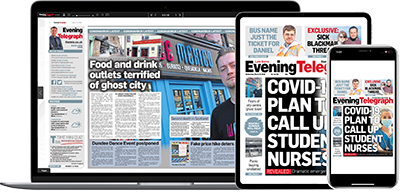 Help support quality local journalism … become a digital subscriber to the Evening Telegraph
For as little as £5.99 a month you can access all of our content, including Premium articles.
Subscribe