David Anderson admitted he had faced his toughest task yet as he went head-to-head against a host of Olympians across a series of gruelling tests at the 2014 UK Challenge in Snowdonia.
David, an engineering team leader at GE in Montrose, headed to North Wales to take part in the 25th anniversary of the UK Challenge.
The nation's leading corporate team-building event, the event saw groups from all over the country undertake a series of physical and mental tasks including night runs, mountain biking, canoeing and intellectual puzzles in a bid to be crowned champions.
David said: "I've done various challenges before like triathlons but nothing like this over three days.
"It's not just physical, but it's mental and strategy comes into it a lot.
"It's amazing some of the people we are competing with, the fact we are competing with them and our times are actually comparable, gives you a good feeling."
The UK Challenge provides companies from a variety of industries with an epic, adrenaline-fuelled adventure that delivers powerful business benefits.
To find out more, visit www.ukchallenge.co.uk.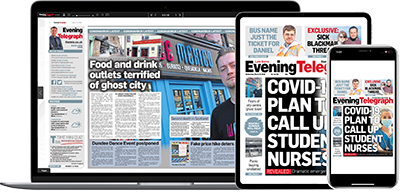 Help support quality local journalism … become a digital subscriber to the Evening Telegraph
For as little as £5.99 a month you can access all of our content, including Premium articles.
Subscribe