Pupils from a Perthshire school embarked on an African adventure to meet their Malawian counterparts.
Community link worker Ross Marshall led a team of volunteers from Blairgowrie High School to see the results of years of fundraising work.
Since 2006, students have been supporting more than 600 Malawian schoolchildren as part of a citizenship agenda for young people. Mr Marshall said: "The purpose of this proposed work experience and trip to Malawi is to continue our strong ties with the school and community and continue this support through fundraising at home.
"Around 14 pupils have had a busy last two years organising fundraising events to assist with the cost of upgrading Geisha school due to damage done by poor weather conditions during their wet season.
"It is a great achievement and a fantastic opportunity for Blairgowrie High School pupils to visit Malawi and see for themselves what the money we have raised is being used for."
The team of fifth year pupils worked with children and staff at Geisha Primary School to help upgrade two school blocks, which incorporated four classrooms and an office.
They were given an unusual gift as thanks for all their efforts a live goat.
Unfortunately, they weren't able to keep their furry friend for long, as Mr Marshall revealed.
"The goat was affectionately given the name of Gerald," he said.
"He became the team's mascot that is until poor Gerald ended up on everybody's plates. This was one of the many cultural instances that shocked, educated and enriched the pupils' experience of Malawi.
"In return, the community was treated to bagpipes and Scottish dancing."
It wasn't all work and no play for the students, though, as they took time out after the school project to enjoy a safari in Zambia, as well as showcasing their talents on the football pitch against their Malawian counterparts.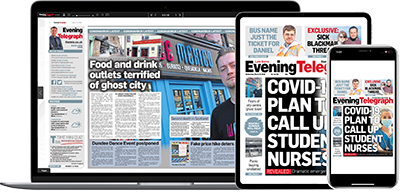 Help support quality local journalism … become a digital subscriber to the Evening Telegraph
Subscribe