Parents eager to see a new secondary school built in St Andrews are urging people to help it over the final planning hurdle.
While the contentious proposal to replace crumbling Madras College on the southern edge of the town faces a legal challenge, Fife Council has published detailed plans.
Campaign group Parent Voice has appealed through social media to those in favour to register their support.
They have posted a short film starring future pupils of the 40 million school and pleading with people to help ensure it is built.
Construction of the school at Pipeland Farm has been given the green light in principle by Fife Council and a second planning application now seeks approval for detailed aspects of the project.
Parent Voice spokesman Chris Wallard said: "We are delighted that Fife Council has progressed to publishing full plans.
"We look forward to studying them in detail over the coming days and giving our feedback.
"The decision has been made to build a new, desperately-needed school at Pipeland, with phenomenal local support.
"Parent Voice reiterates its call for everyone in the community to examine the proposals critically and give their constructive feedback to Fife Council, so the new Madras College will be the best possible school for the St Andrews area."
Fife Council's spokesperson for education, children, young people and families, Councillor Bryan Poole, said: "This is an exciting time for Madras College and the young people of St Andrews and the surrounding areas.
"The current application is another step on the way to having a new school building for Madras and I'm pleased to see the programme progressing.
"The plans are online and this is another chance for the people of St Andrews and anyone else with an interest to engage with the process and make their views known."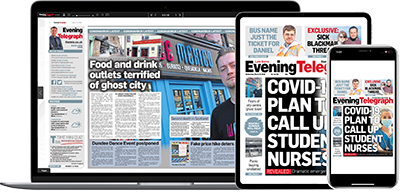 Help support quality local journalism … become a digital subscriber to the Evening Telegraph
Subscribe