More than 500 people aged under 18 have been accused of drug offences in Tayside over the last five years, new figures have revealed.
Statistics released by Police Scotland show that 527 youngsters have been caught in possession of, and supplying, Class A, B and C drugs.
Broken down, it means two were caught every single week on average.
The numbers also provided an insight into the offences involving Class A drugs.
Between 2009 and the end of last year, 51 children were caught in possession of, and supplying, Class A drugs. Class A drugs include heroin, cocaine, LSD and ecstasy.
The worst place in Tayside for youths accused of drug offences was Dundee, with 39%, followed by Perthshire and Kinross which, when combined, account for another 28% of the statistics.
Keiran Watson, of children's care charity Eighteen and Under, said: "The figures are pretty tragic.
"It's always hard to hear these numbers, as it shows how many individuals are trapped in a circle of substance abuse.
"There's quite a lot of anger directed towards drug addicts because people think they are bringing the community down, and these will be the next generation."
A spokesman for drug rehab charity Addaction said the numbers of youngsters dabbling in drugs was "hugely worrying", and insisted that educating people earlier could be the solution.
He said: "These young people are not normally addicted, but the very fact that they've been drawn into that world is hugely worrying.
"In most cases, it's likely to be children who are experimenting because they have access either through a chaotic home life, or by being pressured by older dealers.
"The earlier we can intervene, the better the outcome is likely to be.
"That's why we focus on education and resilience training to give young people the ability to make informed choices and avoid ending up in these harmful situations."
The figures also showed that boys were more likely to get caught up in drugs than girls, as 40 of the youths involved with Class A drugs were boys and only 11 were female.
The Addaction spokesman said this trend was echoed around the country.
He said: "The gender split is broadly what we would expect nationally.
"In Britain last year for under-16s, girls made up around 10% of drug arrests.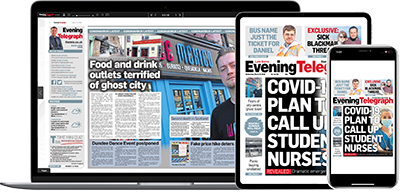 Help support quality local journalism … become a digital subscriber to the Evening Telegraph
Subscribe