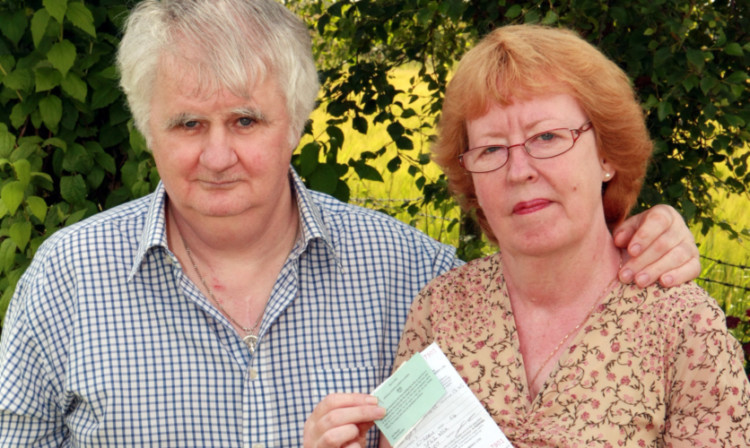 A Ninewells Hospital patient was given a parking ticket just moments after being diagnosed with breast cancer.
Lesley Maguire, 59, was undergoing tests at the hospital after complaining of problems with her implants that were inserted after beating the disease for the first time 22 years ago.
After significant delays, Lesley went through a series of examinations before the devastating diagnosis of breast cancer was announced.
Lesley, of Laurencekirk, then walked back to the car with husband Eddie, 64, and her shock turned to anger when she was met with a 40 parking fine issued by operator Vinci.
The expiry time on the ticket was 1.32pm on June 16 and upon inspection, Lesley noticed that the fine had been issued just one minute later.
Lesley, an administrator at Aberdeen University, was told by the clinic that the car park attendants could call them to confirm why she was late, but the car park staff refused.
She said: "The members of staff were not listening and were quite adamant that we would have to pay and were not prepared to ring the clinic.
"They told us we had to get a letter from them.
"I, at this point, was getting more upset due to the information received at the clinic.
"To receive such terrible news and then be confronted with that was just horrible."
After the Evening Telegraph got in touch, Vinci said it would be cancelling the parking fine. Lesley now wants the company to change its policy so that no one suffers the same distress as her.
Lesley said: "I was in a state of shock. It was 22 years ago that I had cancer and the last thing I expected was for it to return.
"I don't want anyone else with bad news to then have to face what we did afterwards.
"We have been told we are not the only ones to receive tickets for being overdue on parking times, but we would have thought the car parking company would have allowed a bit of leeway time.
"It is a hospital and people are not in control of the time or what news they can receive, resulting in the car parking ticket being far from their thoughts."
Eddie, who used to work in the oil and gas industry, added: "Nobody wants to be at a hospital.
"If they are there too long it's because something has gone wrong."
A Vinci Park UK spokesman said: "We appreciate visiting a hospital can be a stressful and difficult time, and that appointments are often delayed or extended.
"That's why any parking notices issued at Ninewells include a blue card explaining how patients can speak to our staff and request for the notice to be rescinded.
"In light of the specific circumstances, we have now cancelled Mrs Maguire's parking notice."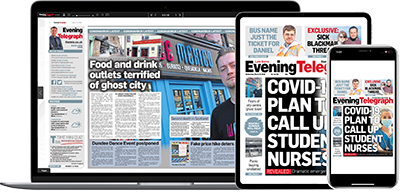 Help support quality local journalism … become a digital subscriber to the Evening Telegraph
For as little as £5.99 a month you can access all of our content, including Premium articles.
Subscribe