A book festival to take place in east Perthshire will see an array of literary talent on show.
The theme for the Bookmark Festival is "Place".
Former BBC TV news presenter Fiona Armstrong has been appointed as Bookmark's patron and Joan Lennon has taken up her post as the writer-in-residence for Blairgowrie, Rattray and the Glens. The list of authors who will feature at the festival includes Ron Butlin, Tom Pow, Fiona Thackeray, Lesley Glaister, Bruce Sandison, Kenneth Steven and Patrick Richardson.
The programme includes Scotland for Gardeners hosted by Kenneth Cox, of Glendoick Garden Centre.
The festival will also feature a number of workshops.
Christine Findlay, chairman of the Bookmark Festival committee, said: "I'm delighted with the rich and varied 2014 Bookmark programme, and I'm sure our audience will be delighted, too."
Ms Lennon said: "I'm very pleased to be part of the build-up to this exciting second Bookmark Festival.
"Last year was amazing but this year will be even better."
She will host A Poem and a Pint at the Ericht Ale House, Blairgowrie, on Sunday October 12 at 4pm.
The festival will take place over the weekend of October 10-12.
Tickets can be purchased by visiting www.bookmarkblair.com.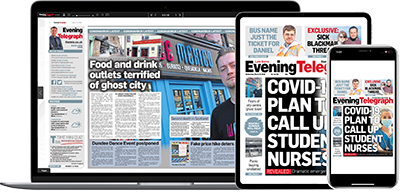 Help support quality local journalism … become a digital subscriber to the Evening Telegraph
Subscribe