Villagers have targeted their ire on the Church of Scotland after it lodged plans for a new church and community centre expected to cost around 1.5 million.
Several residents living in St Madoes claimed it would "ruin the entrance" to the Perthshire village and others are concerned it could lead to the church merging with other congregations in the Carse of Gowrie.
The move has divided opinion among the parishioners of St Madoes and Kinfauns Church, and residents have claimed they were not consulted.
Mark Craig, of St Madoes, said he is concerned about the future of the church and is also worried about the impact the development will have on the village.
"It would have been in keeping with the community spirit to pay me and other residents a visit to discuss the development," he said.
He continued: "The land to be built on is class one or two prime agricultural land (green belt), which will contravene the strategic development plan."
Church elder and local farmer John McCourt said he feels the plan is "totally unnecessary" and branded it a "waste of money".
"This plan should not go ahead as we already have a community centre in St Madoes and a hall that was recently refurbished."
He added: "I've been told it will cost around 1.5 million it's money that could be better used."
However, a Church of Scotland spokesman said that the "majority" of parishioners favour the plan, adding: "The present church building is proving to be insufficient for the needs of the congregation."
He said: "St Madoes and Kinfauns Church wants to be a community church which is at the heart of its parish. This congregation is growing and is vibrant, with the number of younger people increasing."
A spokesperson for Perth and Kinross Council commented: "There was no requirement for any additional notification or consultation with the community beyond this."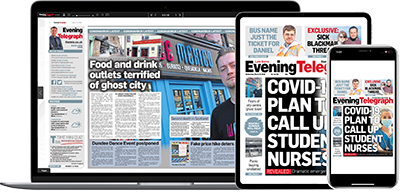 Help support quality local journalism … become a digital subscriber to the Evening Telegraph
Subscribe