Political pressure will be applied to try to ensure a share of 100m worth of investment in schools is directed towards Perth and Kinross.
Local authorities will bid for the money and Liz Smith MSP believes Kinross Primary and Perth's Tulloch Primary should be at the top of the list.
Each has been assessed as "life-expired" by Perth and Kinross Council, but it has been revealed they may be in competition as there is local funding for just one new school.
Ms Smith hopes securing a proportion of the new funds made available by Finance Minister John Swinney will mean this can be avoided.
Perth and Kinross Council has said it needs to wait for more details of the fund before it can decide how to proceed.
The two schools are little more than 50 years old, but it has become clear to the council and parents they have reached the end of their lives.
Each is an example of the so-called "Clasp" design, which was once a pioneering system of prefabricating public buildings but is now discredited.
They have been beset by building issues in recent years particularly from water penetration and though they continue to perform adequately the council is seeking to replace them, as it has other Clasp schools.
Ms Smith said: "It is welcome news that due to Scottish Government under-spends, a further 100 million of NDP investment is to be made available for school infrastructure projects.
She added: "I have written to John Swinney MSP and Mike Russell MSP to make the case for further funding to invest in Perthshire and Kinross-shire school infrastructure."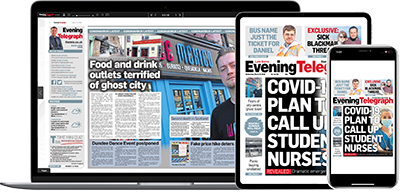 Help support quality local journalism … become a digital subscriber to the Evening Telegraph
Subscribe