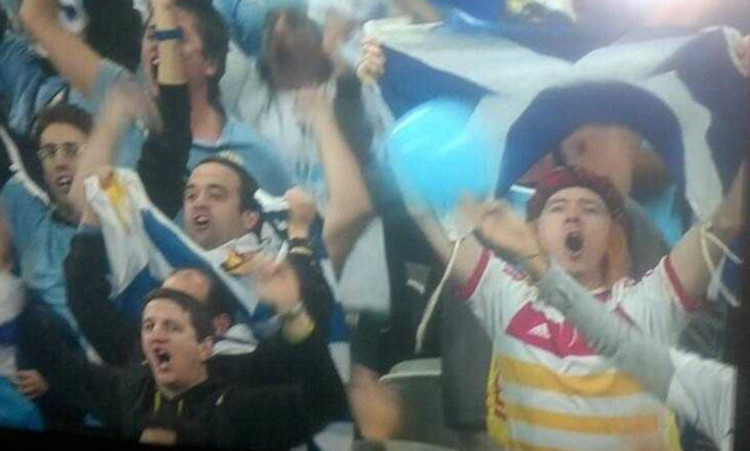 One Scotland fan has become an internet sensation after being spotted celebrating with Uruguay fans during last night's World Cup clash with England.
The Scot, named on social media as Mark McConville was caught on camera, dressed in the new Scotland away top and a Jimmy Hat, waving a St Andrews cross towards the end of last night's game just after Luis Suarez made it 2-1 to the South Americans.
Posting on Twitter McConville's cousin, Alan Ruddy, claims he has been in Brazil for the past three weeks delivering second-hand football tops to a Brazilian orphanage.
Alan said: "He spent the first two weeks delivering football tops he collected to a Brazilian orphanage in the Amazon jungle. He is a massive Celtic fan and carried over dozens of CFC tops.
"He followed Uruguay four years ago in South Africa and now doing the same in Brazil."
Four other Scots were also spotted in the crowd earlier in the game, however it was sight of McConville celebrating that has grabbed the limelight.
Many eagle-eyed viewers questioned what they saw but images soon appeared online confirming the man was dressed as a member of the Tartan Army.
One Twitter user said: "Did I just see a boy in a Scotland top in the Uruguay end?"
Many found humour at the sight of a lone Scot celebrating amongst thousands of Uruguayans.
Iain Storey tweeted: "Hero", while another person tweeted, "Get that man a pint!"
However not all found it too funny.
England fan Oliver Brookland described the mystery Scot as a "bitter obsessed moron", while another posted: "Only World Cup joy he'll see in his life!"
While another England fan named 'Rob' said: "Those Scottish fans supporting Uruguay. Made me so angry. Next time Scotland qualify for a major tournament I'll be in the opposition end."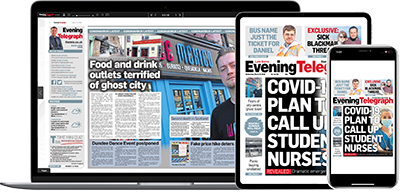 Help support quality local journalism … become a digital subscriber to the Evening Telegraph
Subscribe