A talented Tayside father has launched his first book to critical acclaim.
Shaun Harbour secured a top 10 place on the Amazon website after releasing a fairy tale inspired by his daughter and the Perthshire countryside.
His story, called the Robin and the Wish, was one of the most downloaded children's ebooks in the fairy tales, folk tales and myths genre.
The tale revolves around Small Girl, who lives alone, and the arrival of Robin, a friend created for her by the Old Forest.
Mr Harbour, a member of police support staff in Burrelton, revealed how he came up with the idea for the book.
He said: "The Old Forest and the landscapes, as illustrated and described, are very much influenced by the beautiful countryside of Perthshire.
"I see so much beauty every day as I travel around with my job it is hard not to be inspired.
"The reviews on Amazon are amazing and moving, as are the reactions of friends and family who have read the book."
Mr Harbour is now working on a new book called the Elephant Who Fell from the Sky.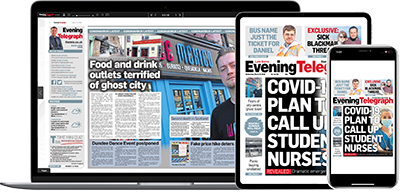 Help support quality local journalism … become a digital subscriber to the Evening Telegraph
For as little as £5.99 a month you can access all of our content, including Premium articles.
Subscribe