A six-figure investment in a Perthshire town's ambulance station has been unveiled.
David Garbutt, chairman of the Scottish Ambulance Service, formally opened the new-look station in Blairgowrie's Ann Street after a 325,000 investment to upgrade and expand the base.
The original station has been expanded to create an improved working environment for the 14 staff based there.
The improvements include dedicated sluice and laundry rooms, as well as a new changing room and showers, a kitchen and dining area, and a vehicle wash bay.
Crews at the station respond to around 1,100 emergency calls every year and a further 260 requests from doctors for urgent hospital transfers. In addition, they transport more than 7,200 patients to and from hospital outpatient appointments.
The station operates with one emergency ambulance and three patient transport service vehicles.
Opening the facility, Mr Garbutt said: "The investment to upgrade and expand the station at Blairgowrie will significantly improve the working environment for the staff who are based there."
Pauline Howie, chief executive of the Scottish Ambulance Service, added: "The development is part of our national property investment strategy to upgrade our stations across the country to meet the needs of our staff and patients."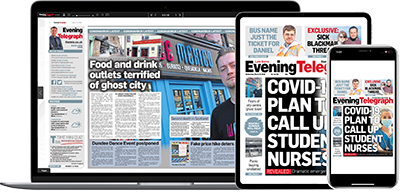 Help support quality local journalism … become a digital subscriber to the Evening Telegraph
Subscribe