Perthshire people will be forced to cut their rubbish by half after plans for new, smaller bins were rubber-stamped by the council.
Under a drastic shake-up on waste collection services in Perth and Kinross, residents will be given new half-sized green-lidded bins.
Councillors rejected a suggestion that monthly collections could be introduced.
Instead, they favoured the new container sizes, which will be delivered to 5,000 households in Auchterarder and the Oakbank and Western Edge areas of Perth early next year.
Following a 12-month trial, the effectiveness of the waste reduction pilot will be assessed.
The local authority will then decide whether to roll the scheme out to the rest of the region's 70,000 households by the end of 2016.
Perth and Kinross Council must reduce landfill waste by at least 1,000 tonnes each year, or face hefty penalties.
Under the Zero Waste Plan introduced in 2008, the Scottish Government set a target for no more than 5% of waste being sent to landfill by 2025.
Large fines are meted out if councils fail to hit their 50% recycling target under European directives.
Environment convener Alan Grant told his colleagues something must be done to boost recycling figures.
Mr Grant said: "If general waste bins are smaller, then people might think about what they put in them."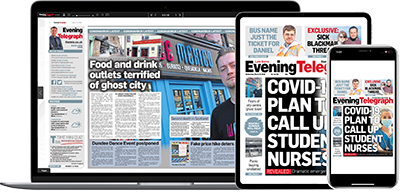 Help support quality local journalism … become a digital subscriber to the Evening Telegraph
For as little as £5.99 a month you can access all of our content, including Premium articles.
Subscribe