Projections for a staggering 24% increase in the population of Perth and Kinross over the next quarter of a century have been hailed as evidence the region has a "strong future".
In Scotland only Edinburgh and Aberdeen are predicted to grow faster, according to the latest predictions from the Office for National Statistics.
By 2037 Scotland's population is expected to grow by 9%, taking it close to six million.
According to the report, there will also be a large increase in the number of people of working age in Perth and Kinross (21%), while the number of pensioners will stay relatively stable.
Mid-Scotland and Fife MSP Murdo Fraser believes the figures illustrate the strength of Perth in attracting jobs and investment.
However, he said they will have implications for local infrastructure, schools and healthcare and without Scottish Government support in providing digital and physical infrastructure, the region could fail to live up to growth predictions.
He said: "This bright future can only happen if the Scottish Government gives the region the tools to facilitate growth. Digital infrastructure must improve faster internet and more reliable mobile communications."
In all, the population of 20 of the 32 council areas in Scotland are projected to increase, while the population in the other 12 are projected to decrease.
It's estimated the population of Inverclyde could drop by almost 20%.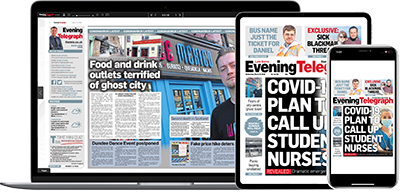 Help support quality local journalism … become a digital subscriber to the Evening Telegraph
Subscribe