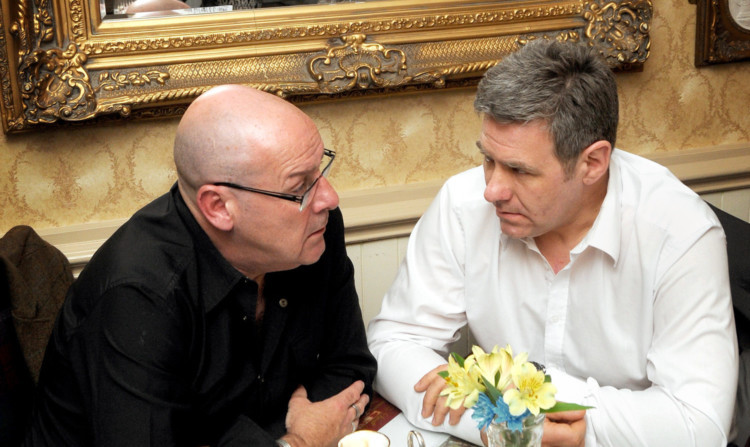 A new science-fiction film is being filmed across Tayside.
Time Teens The Beginning is a time travelling feature which has also cast a number of local children.
It is produced by three local companies, Baudelaire Productions, Dreamcastle Films and the Theatre Arts School and set for release on June 30.
Directed by Forfar lad Ryan Dewar, who also scripted the film with Perth's Ian Grieve, the film may give a big boost to tourism in the area when it is released.
Among the stars is Andy Gray.
Although best known for his role as Chancer in BBC TV sitcom City Lights, he has appeared in an array of other TV roles as well as making regular stage and film appearances.
One of Scottish theatre's top acting talents, Liam Brennan, is also cast in the film which features a plethora of other well-known actors including Ian Grieve, Gareth Morrison, Tom McGovern and Amanda Beveridge.
All of those are well known to TV, film and theatre audiences with Tom's TV credits including Holby City and Looking After JoJo.
Ryan said: "This is a purely Scottish feature film created and filmed in Perthshire and Angus.
"It showcases a lot of Scottish acting talent as well as some lovely Scottish locations."
Diners at a Tayside restaurant were given an extra treat when the Time Teens crew turned up.
Small Talk in Perth's High Street was the venue for a scene.
George Sinclair, proprietor of Small Talk, said: "I believe my restaurant was picked because the film people thought the interiors fitted in well for a scene they were keen to do. And we were pleased to welcome them."
And it's not the first film to use Perth as a location.
A lot of Rob Roy, which starred Liam Neeson, Jessica Lange, John Hurt and Brian Cox, was filmed in the Fair City as was Young Adam which starred Ewan MacGregor, Tilda Swinton and Peter Mullan.
Some of the scenes in Chariots of Fire were filmed at nearby Amulree and Country Dance, a film set in Perthshire and scripted by author James Kennaway from Auchterarder, was also partly shot in Perth.