The manager of a Perthshire boys' football team has said the club is "gutted" at the "mindless" vandalism of its static caravan.
Stephen Taylor, who manages the 2001 side of Scone Thistle Community FC, said the boys had just returned from playing in Newcastle-upon-Tyne to be confronted by the caravan, with its windows broken, covered in red and white graffiti.
The incident took place between 8.45am on Sunday and 5.30pm on Monday at the caravan in the grounds of Glebe Primary School.
The police are now trying to trace the culprits, believed to be aged between 11 and 13.
Mr Taylor said the club is "vibrant", with 180 members, and that it was in the process of putting sheeting on the floor of the caravan.
"Everyone is gutted by this mindless vandalism I don't understand it," he said. "A lot of people have put hard work into raising funds.
"We recently spent between 300 and 400 on the caravan as we use it for changing facilities."
He continued: "We're now back to square one and will need another facility, so if anyone could help that would be great.
"Whoever did this is bound to have paint on their clothes when they got home, as the area was covered in it. It's such a shame as we're trying to encourage kids to be part of this community."
A police spokesperson said: "There were four or five boys, all aged between 11 to 13, acting suspiciously. One boy was seen to have fair hair and was wearing a red top, while there was also a boy with dark hair, wearing a dark blue tracksuit top."
Anyone with information should phone Police Scotland on 101, or speak to any officer.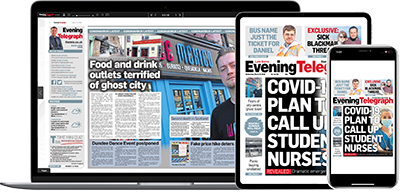 Help support quality local journalism … become a digital subscriber to the Evening Telegraph
For as little as £5.99 a month you can access all of our content, including Premium articles.
Subscribe