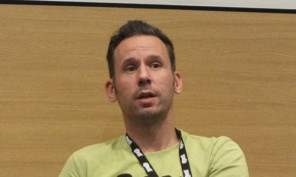 A Dundee-based writer is cooking up a Storm in the comic book world as he writes the newest X-Men graphic novel.
Monty Nero was chosen by American comic book giants Marvel after the success of his acclaimed Death Sentence series of comics, which are also soon to be re-released as a hardback graphic novel.
The Death Sentence series, illustrated by Mike Dowling, was originally self-published before news of the story spread, leading to the first issue being sold out and garnering rave reviews in this country and in the US.
Dr Chris Murray, lecturer at Dundee University who specialises in comics, said: "There was a real buzz about it, not because of a marketing campaign that said 'you will like this' but because Monty had taken the time to listen to people's feedback and really thought about combining that with a story that really mattered to him.
"It's a really big success story and it's good it's based in Dundee. It's a really positive message for young aspiring artists and writers in Dundee."
The story of Death Sentence centres on the characters of Verity, Weasel and Monty who contract the G+ virus giving them superpowers but also only six months to live.
Mark Millar, an award-winning Scottish writer whose works include Kick-Ass and Wanted both of which were made into Hollywood films described Death Sentence as "the best idea I've seen in years. Genuinely original."
Monty Nero said: "I wasn't planning to make any profit from the series but we ended up making twice what was expected. And now we have a graphic novel coming out in July.
"Marvel read it and directly from that they approached me for the Amazing X-Men Annual. I had a few thoughts on Storm and they liked my take on that. I nearly fell off my chair when they got in touch. I also created my own villain which was a real thrill."
Monty, who is originally from Dudley, works from his home in Craigiebank and communicates with co-workers in New York over the phone and internet.
"I moved to Dundee for work in the computer games industry, designing characters and their descriptions and from that I moved onto writing. There's a really vibrant body of creative people here, working in the arts, computer games, technology, education, science, comics, and journalism."