An Angus project has been shortlisted for an award after teaching new methods of dealing with traumatised youngsters.
The Teaching Recovery Techniques initiative is a joint programme set up by Dundee University and Angus-based charity, the Rossie Young People's Trust.
The scheme which provides training for staff at Rossie to provide better help for young people suffering from trauma has now been nominated for the Care Accolades, run by the Scottish Social Services Council.
Rossie provides two types of short-term accommodation for their clients the first being a secure campus for 18 young people who legally have to have their liberty restricted, and the second a residential service for 14 youngsters who require less care.
To help work with and understand their residents better, Rossie teamed up with experts in the field of child trauma victims from war-torn countries.
One of those is Professor William Yule, from the Institute of Psychiatry at King's College London.
Professor Yule has been an adviser to UNICEF on its psychosocial programme for war-affected children in former Yugoslavia, and was technical director of a major programme to develop services for war affected children in Mostar in Bosnia.
He spent three days at Rossie in April 2012 and applied a trauma recovery programme for children in war-torn areas to the young people at the trust.
This was followed up by Dr Ian Barron, of the School of Education, Social Work and Community Education at Dundee University, who taught Rossie staff how to recognise signs of trauma, distinctions between post traumatic stress disorder and complex trauma, and ways to help alleviate the problems for the children concerned.
Professor Yule said today: "I'm very happy we have been nominated for our hard work.
"It all started when I saw all those trauma victims from the Bosnian War when Yugoslavia was broken up.
"They weren't recognised as being traumatised and they were treated shockingly.
"The pilot study we did was very successful, and then we started getting calls from people in Scotland who wanted us to roll out what we had learnt up there.
"In a nutshell we taught the care staff how to help the kids to deal with the tragedies that have happened."
The winners of the Care Accolades will be announced in Perth on June 10.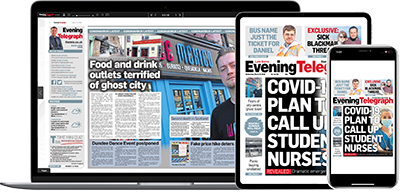 Help support quality local journalism … become a digital subscriber to the Evening Telegraph
Subscribe