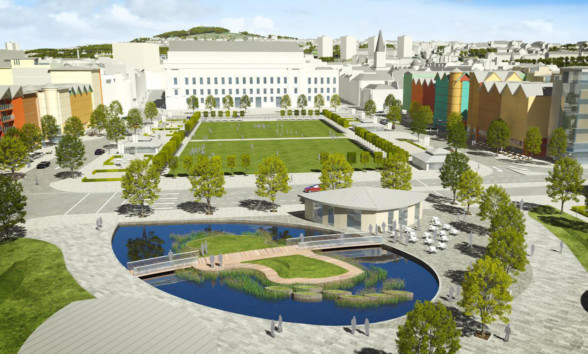 It's less than half-way through its 30-year transformation.
But already, Dundee's Waterfront has been shortlisted in a contest to find Scotland's Best Place.
Ten places in total have been shortlisted by RTPI (Royal Town Planning Institute) Scotland.
They are: Crown Street in The Gorbals, Glasgow; Dundee Waterfront; East Kilbride; the Forth and Clyde Canal; Lerwick Waterfront; Loch Lomond and The Trossachs National Park; Merchant City in Glasgow; Raploch in Stirling; The Royal Mile and Holyrood North in Edinburgh; and the West Highland Way.
Sandra Burke, chief executive of Dundee and Angus Chamber of Commerce, is one of those backing the city.
"Of course, Dundee Waterfront is the best place in Scotland on the RTPI list and we've been actively using our social media channels since last week to encourage local people and businesses to vote," she said.
"Dundee's location on the Tay estuary is stunning and the ambitious regeneration of the Waterfront and Kengo Kuma's V&A will soon provide the added dimension of an iconic, world-class building.
"In that's sense, Dundee Waterfront is symbolic of the strong entrepreneurial spirit that exists throughout Scotland and would be a worthy winner."
Of the 10 places shortlisted, Dundee's project is probably the most recent with much of the building work still going on.
In some respects, Lerwick's waterfront regeneration is similar to what is going on here.
The town, on Shetland, has seen its historic town centre linked to the water part of the aim of the Dundee project.
There's also a cultural quarter, museum, arts centre and other historic buildings.
The V&A in Dundee will encapsulate most of those elements under one roof as well as looking spectacular.
It's the combination of scenery and urban development which makes Dundee's Waterfront project almost unique, when compared to its competitors in this competition.
While the West Highland Way, Loch Lomond and the Forth and Clyde Canal are favourite destinations for those who love the great outdoors, Dundee offers the best of both worlds countryside and spectacular views from within and outwith the city.
The views over the Tay are loved worldwide and Dundee's geographical position has been described by actor Stephen Fry as "ludicrously ideal".
It's not just great views or settings that RTPI is honouring, though, with this shortlist of places.
The Gorbals development in Glasgow comprises more than 1,270 private homes, 600 socially-rented homes, 80 student flats, 12 shops and a supermarket along with a hotel, library, park and 5,000 square metres of office space.
While East Kilbride has grown to Scotland's sixth-largest town with industrial estates, individual communities and a major shopping centre.
Though Dundee's central Waterfront won't have quite as many homes, a couple of hundred flats will be joined by bars, shops, restaurants and office space not to mention a hotel in the new railway station building.
The Raploch project was based on regenerating a whole area of Stirling exactly what Dundee's Waterfront is aiming to achieve here.
And while Glasgow's Merchant City and Edinburgh's Royal Mile areas are among Scotland's most high-profile historic urban areas, the mix of old and new when Dundee Waterfront is complete will surely rival the aesthetics of its bigger Scottish neighbours.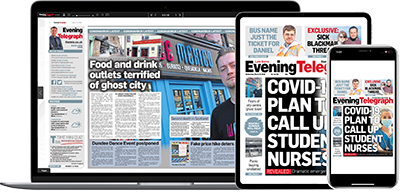 Help support quality local journalism … become a digital subscriber to the Evening Telegraph
Subscribe