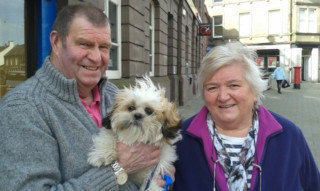 Angus Council has called on the Scottish Government to rethink its policy on dog fouling.
As MSPs prepare to finalise the government's new nationwide strategy to create a litter-free Scotland, local officials have put it to ministers that their new policy leaves out the single biggest litter-related issue to Angus residents dog poo.
A council spokesman said: "While dog fouling is not technically litter, it is waste in the wrong place and causes much concern to the public."
According to officials, a recent survey of 10,000 Angus households revealed that 66% of respondents were "very or fairly worried" about dog fouling. Meanwhile, only 52% of those surveyed said they were worried about litter.
"Angus Council therefore requests that dog fouling be considered for inclusion in the strategy," the spokesman added.
Martin and Brenda McIntosh, both 70, of Kirriemuir said they believe dog fouling is becoming a serious health issue in the area.
"It's absolutely disgusting," said Brenda.
"And it seems to be a problem everywhere especially in Arbroath. It's a complete disgrace that owners are quite happy to just walk away without picking up after their dogs."
And while Councillor Jeanette Gaul says this is an issue that ultimately falls down to dog owners themselves, she reckons it's time for the issue to be faced head-on by authorities.
"Although dog fouling is fundamentally the responsibility of dog owners, the council recognises it has a part to play in tackling this problem," she said.
"We want to ensure owners act responsibly and clear up after their dog."
In recent months, local authorities have taken steps to address this growing concern.
In February, Angus Council launched a new information leaflet campaign highlighting the fact that "any bin will do" when it comes to dog mess. Yet the move was largely spearheaded by a Forfar Primary School pupil, who said she was sick of an influx of dog fouling outside her local school.
Councillor Donald Morrison said local authorities needed more grassroots activity from members of the public if Angus hopes to become a dog poo-free area.
"We cannot be complacent and the council need continued help from the public," he said.
MSPs said they plan to consider Angus Council's proposed inclusion of dog fouling in the country's new litter strategy, which will be unveiled later this year.