Two men who stole a lorry before ditching it in Dundee have been jailed.
Gary and Thomas Cummings took the Izuzu vehicle on Wednesday from Webster's Building Supplies in Milnathort, sparking a police hunt which only ended when Gary Cummings deliberately crashed the vehicle into a police car.
At Dundee Sheriff Court, Gary Cummings, 24, of Gleneagles Drive, admitted that, at Claverhouse Road, he drove while unfit through drink or drugs.
He also admitted at Claverhouse Road failing to stop when instructed to do so by a police officer, driving dangerously and striking a kerb, swerving into the opposing carriageway, causing other vehicles to take evasive action and intentionally driving into a police car, causing damage to both vehicles.
Both he and Thomas Cummings, 27, of Low Street, Perth, admitted taking and driving the lorry at Webster's Building Supplies, Stirling Road, Milnathort, and running from the stolen vehicle while being pursued by police officers, perverting the course of justice at Claverhouse Road.
Scott Norrie, defending Gary Cummings, said he had an unenviable record.
"His difficulty from a young age has been drug addiction," Mr Norrie said.
Thomas Cummings' solicitor Anika Jethwa said that while her client was the older of the pair he was very much the junior partner in the offence.
Sheriff Kenneth McGowan returned Gary Cummings to prison for two months for the unexpired portion of a previous sentence and sentenced him to a further eight months, endorsed his licence and disqualified him from holding or obtaining a licence.
He admonished him on the charge of failing to stop when instructed to do so.
Thomas Cummings was returned to prison for 26 days and sentenced to a further six months.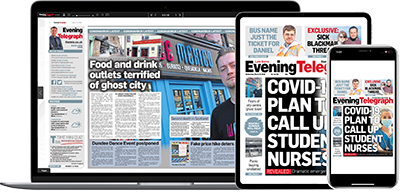 Help support quality local journalism … become a digital subscriber to the Evening Telegraph
Subscribe