A Tayside bird club has hailed an "outstanding year" for ornithologists looking for uncommon visitors to our shores.
Bob McCurley of Angus and Dundee Bird Club said 2013 saw an influx of rare birds. He was happy to report white-tailed sea eagles are now being seen more often in the country and city. "In excess of 200 have so far been recorded," he said.
Visitors to Angus and Dundee area included:
Montrose Basin white-tailed sea eagle, black necked grebe, osprey, Manx shearwater, storm petrels, leach's petrels, spotted redshank, egrets, barnacle geese, and a black-throated diver; Usan 203 Manx shearwater, eight sooty shearwater, three parrot crossbills. Forfar Loch pallid harrier, female ring-necked duck, ruddy shelduck, Iceland duck; Glenshee Ski Centre 20 snow buntings, three ptarmigan; Glen Lethnot four red kites, drake mandarin; Glen Prosen first cuckoo seen on April 28; Loch of Lintrathen seven red kites, 260 waxwings, 1,000 Canada geese; Loch of Kinnordy bearded tit, bittern, male smews, winter Iceland gull, wagtails, spotted craik, quail, blue morph snow goose, white barn owl; Arbroath foreshore Mediterranean gull, 283 Manx shearwaters.
Auchmithie red male common rose finch, late hobbies; Lunan Bay summer plumage great northern diver, surf scoter, black tern; Carnoustie foreshore grey phalarope, long-eared owl (at Easthaven); Barry Loch blue-winged teal; Camperdown Park nuthatch, green-winged teal (Riverside Nature Park), two slavonian grebes (City Quay).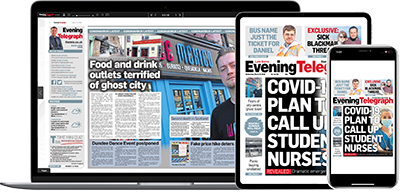 Help support quality local journalism … become a digital subscriber to the Evening Telegraph
Subscribe