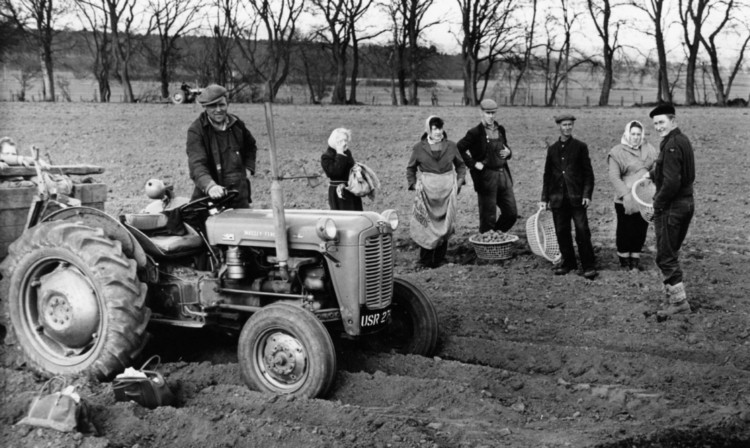 For kids these days the "Tattie Holiday" is all about time off school, hanging out with pals and having fun.
But at its post-war height in 1949 nearly 44,000 Scottish school children flocked to the country's potato fields to take part in a crucial harvest that helped keep Britain fed.
From first light children as young as primary age were out in frosty fields doing back-breaking work, but they and their families were happy for the money and a hard worker could make a decent day's pay.
Ted Hunter is 82 years old and still stays at Hill Houses Farm, just north of Strathmartine Hospital.
Apart from his National Service from 1948 to 1950 he's never been away from farming.
"First time I was out lifting tatties it must have been 1938," he recalls, "I was seven. Back then it was just the people from the farm or nearby who worked on the harvest, it was later on that all the folk from Dundee came.
"The foreman would mark out your 'bit' using twigs and then along came a thing they called a digger pulled by two horses three if it was hilly," explained Ted. The digger was a simple mechanism that hauled the tatties out of the ground to be gathered.
"Start at 7.30am, piecey break for 10 minutes at nine and the digger would just go round the field not stopping.
"You're crying from a sore back and when the digger stopped they pulled a harrow across the field to collect the tatties that'd been missed and you had to gather them too."
William Clarke, 54, farms up by Luncarty and remembers howking tatties in the mid 60s.
"If you picked your bit well you could end with 25 bob a day (£1.25), which was good money back then, especially when you're nine or ten," he said.
"So it was okay, but if you didn't work hard the gangmaster would just send you home."
Bob Doig picked his first tattie at his father's farm out near Methven in the forties and he's seen the whole industry change beyond recognition.
Bob's 78 but still enjoys the job and is still breeding new types of potatoes.
He has 500 acres at Old Fargie Farm near Glenfarg and with today's harvesters his team can lift 300 tons of tatties a day clearing 16 acres in the process.
"And if you imagine that in the old days there would be a team of eight ladies, with support staff, and they'd lift one acre a day, that shows how it's changed," said Bob.
The heyday of the tattie harvest during the fifties and sixties brought men, women and children flooding into the fields of Angus and Perthshire from Dundee and Fife.
"Today fewer people are needed and it's not local people, they don't seem particularly keen on the work," Bob added.
"So it's folk from Eastern Europe and, while we don't need as many for the harvest, we still need them for the grading through the winter."
The only thing that hasn't changed, it seems, is that people still really want their tatties.
Child labour keyMechanisation has taken the effort out of the tattie harvest, and for kids these days this time of year is simply welcome time off school.
But during the years before the Second World War the potato harvest was a hugely important agricultural operation and the use of child labour was key.
"Before about 1919 it was the farmers who decided when the time was right for the tatties to be lifted," explained Dundee city archivist Ian Flett.
"They'd put the word out and the all available children were brought in from the fields until the crop was in. There are accounts of teachers coming to their schools to find all the classrooms empty because the children were off to the harvest!"
At the end of the 1940s the Government actually made it law that children age 13 and over could miss school for the tattie lifting. By 1959 attitudes were changing, automatic harvesters were being phased-in countrywide and that year the Government said 1962 would be the last harvest that would see children let off school.
But well into the seventies young people made the most of the opportunities and a day's graft in 1976 could bring in £6 work not bad when you could get a decent three piece suite for £15 and a packet of Love Hearts was 3p.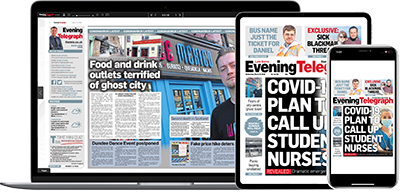 Help support quality local journalism … become a digital subscriber to the Evening Telegraph
Subscribe