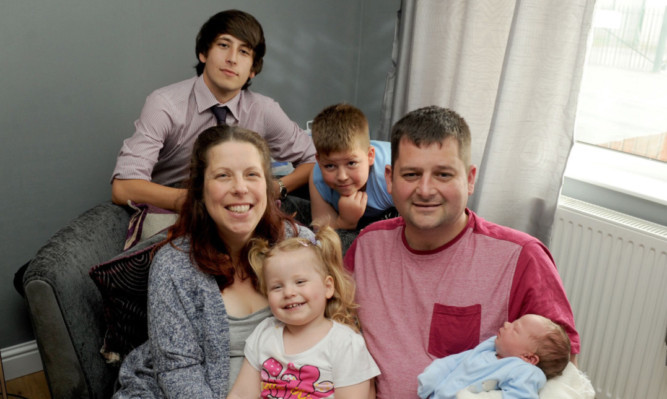 Racing to the hospital, Gillian Hershaw and her husband Jimmy knew they were never going to make it.
The Dundee mum was deep in labour just two hours after Prince William and Kate had welcomed the latest Royal into the world.
On the city's Kingsway, near the Myrekirk roundabout, the couple hit traffic.
Blocked in from every direction, Jimmy, a water cooler technician, beeped the horn and turned on the hazard lights in a desperate attempt to get through.
But nothing worked and, on the back seat, Gillian had to deliver baby Noah herself.
The 37-year-old mum had actually gone through the same terrifying experience in almost exactly the same spot two years before with daughter Alexis.
Both kids now have their place of birth on their birth certificate as 'in transit'. Gillian said: "I just kept thinking 'no, not again'. But once he was ready to come out, there was no stopping him.
"The most scary part is knowing anything could go wrong.
"Jimmy and I have no training or anything in delivering babies. I was panicking that we were stuck, that something was going to happen. I was worried because with babies there is just no telling what's going to happen.
"There's me thinking everything is fine and then 10 minutes later it's totally different."
The Fintry mum-of-four, who works at the DWP in Dundee, said everyone must have thought her husband was just desperate to get to the new Asda.
The back windows of their black saloon car are tinted, hiding Gillian from view of the surrounding drivers and she added: "If Jimmy had wound down the window, and everyone had heard me screaming, they would have known what was going on.
"Jimmy said I was better this time, though, as he'll only be deaf for three days rather than for a week when I had Alexis."
Gillian was at home with Jimmy, 38, when she went into labour. Initially thinking she had more time, Gillian even let in a heating engineer to fix the boiler. But, all of a sudden, it became clear the baby was coming much faster than anyone had first thought. The heating engineer was pushed out the house, still holding his cup of tea and without his tools.
Sensing she wasn't going to get to Ninewells in time and remembering Alexis' traumatic arrival Gillian's mother-in-law threw a plastic sheet and a blanket in the car.
Gillian, who lives in Fintry's Findcastle Street, said: "I just mistimed it, thinking everything was fine, that I could manage and had it covered. We called Ninewells as we left. I told them I might deliver in the car."
Noah was born at 6.50pm on Monday a day late weighing 8lb 6oz. Two midwives were waiting for the couple when they arrived and, after just an hour in the hospital, Gillian, Jimmy and Noah returned home.
It was almost deja vu. Two winters ago Alexis was born in the car just a few yards down the road from where Noah made his big entrance.
That time, Jimmy was able to pull over on Liff Road and get in the back with Gillian to deliver his daughter. Members of Gillian's family have now vowed if she has another child that they will get her to the hospital especially early.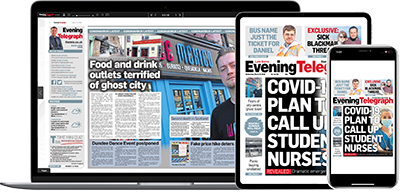 Help support quality local journalism … become a digital subscriber to the Evening Telegraph
Subscribe