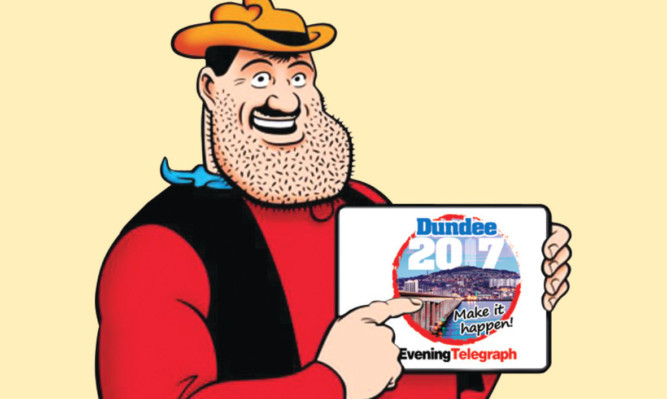 Comic hero Desperate Dan is scaring off the competition in Dundee's bid to become UK City of Culture!
Dundee is facing off against Hull, Swansea Bay and Leicester to land the prestigious title in 2017, and at least one competitor has admitted being intimidated by The Dandy strong man.
After the contest's final four were announced last week, the Hull Daily Mail newspaper admitted it was worried about the strength of Dan's personality in Dundee.
Despite celebrating getting through to the last shortlist, a columnist for the paper, Angus Young, said: "It's Dan I'm concerned about.
"This a bloke who thinks nothing of eating several cow pies in one sitting.
"A cowboy so tough he shaves his chin with a blowtorch and sleeps in a reinforced bed filled with building rubble."
He dismissed the other two contenders to the title, Swansea Bay and Leicester, saying Leicester's bid was "seriously undermined" by Leicester City football manager Nigel Pearson who formerly managed Hull.
But he couldn't find much to criticise in Scotland's challenger, declaring: "So, it has to be Hull as long as it doesn't come down to a straight shoot-out with Dundee's Dan.
"If that happens, we could be in trouble."
Some controversy was reported by the paper after last week's announcement, as Hull has few celebrity supporters throwing their weight behind the bid.
Among Dundee's high-profile backers are TV star Lorraine Kelly and actor Brian Cox.
Actor Michael Sheen and Doctor Who writer Russell T Davies are supporting Swansea Bay, and Richard Attenborough is on the side of Leicester.
Newspapers in all three rival cities reported the joy local people felt when they heard the news.
The Leicester Mercury pointed out the winning city will benefit from a huge boost to its economy, more visitors and more jobs.
But it also published a piece questioning whether the attempt by the city was worthwhile.
Ian G Lambert posted on the website, saying: "There are far more important things that need to be sorted out in Leicester before bothering about being a City of Culture."
All four cities are vying to prove themselves and impress the nation over the next few months.
The winner will be announced by the Department for Culture, Media and Sport in November after the final bids have been submitted to a judging panel.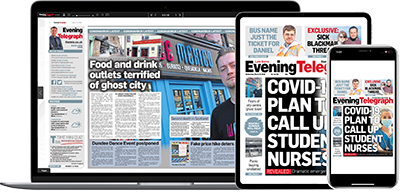 Help support quality local journalism … become a digital subscriber to the Evening Telegraph
For as little as £5.99 a month you can access all of our content, including Premium articles.
Subscribe