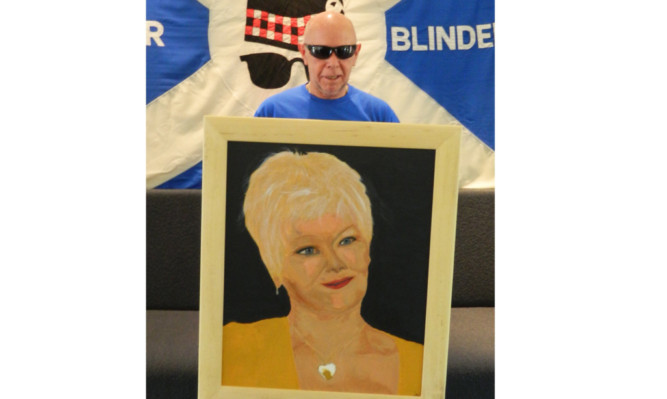 Derek O'Rourke took up painting just three years ago but has already wowed art lovers across the country.
But the Dundonian's artistic talent is even more astonishing, as Mr O'Rourke is registered blind.
Derek, who spent 10 years in the Royal Navy, has helped raise thousands of pounds for charities by selling or auctioning off his unique artwork.
And now, to mark his talent and impressive achievements, the 61-year-old has been nominated for an Evening Telegraph Hero Award.
He is in the running for the Armed Services Person Award for his work to help raise money for various armed forces charities, including Blind Veterans UK.
Derek suffers from a very rare condition called Angioid Streaks, which affects his vision.
He paints "through a keyhole", where he focuses through a small clear spot in the corner of his right eye and uses a magnifying glass.
Mr O'Rourke, who grew up in the Linlathen area of the city, can only see his paintings from a few inches away through a magnifying glass.
He said: "I have to try and push my eye up through the clear spot and it is difficult to keep my eye in that position for a long time.
"I can only see parts of it very close up. If I move away from the painting, I can't see it as it gets more blurred. I can't really appreciate my paintings. I describe it as painting through a keyhole."
Derek said his eyesight will continue to deteriorate and over time he will eventually lose all of his vision.
But the courageous painter, who spent 15 years working as a firefighter in Fife, is determined to stay positive and do all he can to raise money and awareness for charities.
His paintings cover a wide range of subjects, from animals, war scenes, buildings and people.
Derek, who first began losing his vision six years ago, said: "When I could see, I couldn't paint.
"I would have been too critical of what I saw.
"I only started painting three years ago. It lets you go into another world. You get into it and hours can go by.
'It takes your mind off things'
"It does help me cope and takes your mind off things. I really enjoy it. You have to stay positive. I always think that there are a lot of people who are worse off than me."
The former Linlathen High pupil recently painted Dame Judi Dench, which he will auction off for charity later this summer.
The modest dad-of-two, who now lives in Edinburgh, said he was shocked and delighted to be nominated for a Tele Hero Award.
He said: "I am really surprised. It gives you a bit of a boost, so it is smashing. All the money from each painting I sell goes to charity.
"Painting is something that keeps me going and I like doing it. I will keep doing it as long as I can. It's nice to be nominated and it will give the charities a bit of publicity too."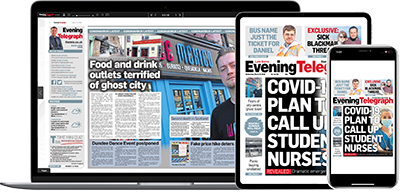 Help support quality local journalism … become a digital subscriber to the Evening Telegraph
Subscribe