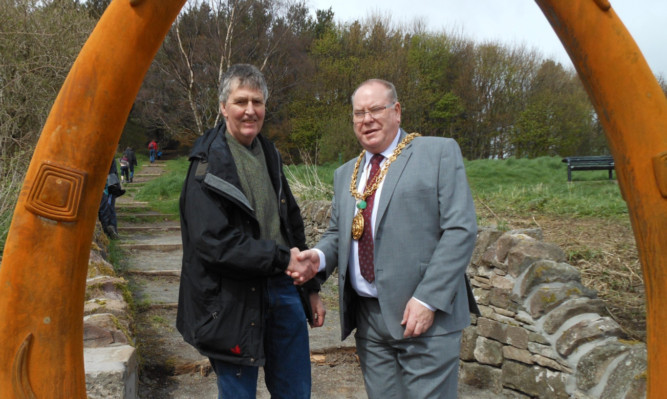 A stunning new sculpture representing whalebones has been unveiled at the Law.
Lord Provost Bob Duncan joined artist Kevin Blackwell to cut the ribbon and allow walkers to pass through the arch made by the structure.
Sunday's event was held to launch the Friends of Dundee Law group, which plans to work in partnership with the city council to develop the hill as a visitor attraction.
Mr Duncan said: "Today marks the start of a reinvigoration of the Law. Over the next few years you will see some extra TLC given to the area.
"The sculpture has been made possible with funding from the Dundee Partnership and is part of the first stage of investment at the entrance to the Law."
The new cast iron whalebones replace wooden ones that were installed about 20 years ago.
"As well as reflecting Dundee's whaling history, it reflects the Iron Age history of the site and is decorated with motifs of finds from archaeological digs," the lord provost said.
Mr Blackwell worked on the design, which includes sword and sickle motifs, with children from SS Peter and Paul's Primary School. Coldside Community Forum also supported the project.
Environment convener Craig Melville said: "The Law is an iconic green space treasured by the people of Dundee. This event is a great opportunity for its history, natural heritage and community interest to be celebrated.
"The Friends group will allow the community to have a greater involvement in the management and development of the Law."
The event offered free activities including face painting, tree planting, dog training sessions and a guided walk of the Law's historical and geological features.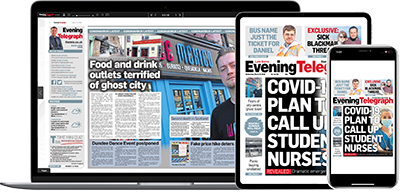 Help support quality local journalism … become a digital subscriber to the Evening Telegraph
For as little as £5.99 a month you can access all of our content, including Premium articles.
Subscribe