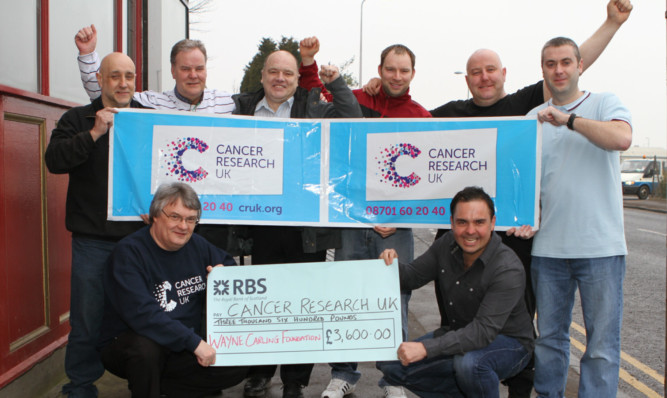 A charity set up in memory of a Dundee business owner has given more than £200,000 to Cancer Research UK.
The Wayne Carling Foundation passed the milestone today after steadily raising funds to fight cancer in Dundee for five years.
Wayne tragically died of the disease in 2006 aged just 30, and since then his brother Graeme has been organising stunts all over the city for local cancer groups.
The 39-year-old said: "I'm delighted with our progress so far.
"We're really pleased, but the target is still to raise £1 million.
"It's for a great cause. I think everyone has probably been touched by cancer and we have found so many people willing to help us help Cancer Research.
Wayne was unexpectedly diagnosed with oesophageal cancer in May of 2006 and sadly died in November that year.
Graeme said: "He was diagnosed out of the blue. He had indigestion and problems since January. In May they went in with a scope and found the cancer. It was stage four and incurable. He died in November. It was very quick."
The latest cheque presented by the foundation was for £3,600 and its use restricted to Ninewells Hospital, Dundee.
Graeme, a property owner from Auchterhouse, said: "This money was from a sponsored 'sidetember' like movember but with sideburns.
"We also held a charity football match. The Bonargrove AFC played against the regulars of the Glens Bar and also made a substantial donation to the foundation.
"I would like to thank all the committee at the Bonargrove for their support, all the staff and customers at the Glens Bar and all our friends and family who continue to support this fantastic cause."
Richard Cowie, area volunteer manager for Cancer Research UK, said: "A massive thank you from Cancer Research.
"We do not get any government funding so generous donations like this are what keeps the lifesaving work and research that we do going.
"We really value the support of the Wayne Carling Foundation."
Norrie Burns and Jim Christie represented Bonargrove AFC.
Norrie said: "When the club folded we wanted the funds to go to a good cause."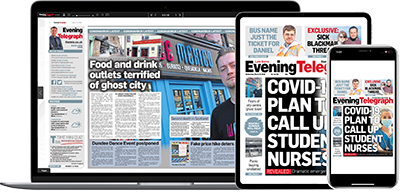 Help support quality local journalism … become a digital subscriber to the Evening Telegraph
Subscribe