Elderly residents living in a sheltered housing complex in Dundee say they were told to clear a car park of snow themselves.
Many residents of Caledonia House, on Dickson Road, Menzieshill all aged between 70 to 99 had to stay indoors when blizzards arrived earlier this week.
They say this is because operators refused to clear the thick snow, allegedly stating it was 'against their policies' to maintain car parks on any of their sites.
Although the firm refused to comment on what exactly was said to residents, it did employ contractors to clear the car park yesterday.
The move came two days after the snow had fallen, and within hours of the Tele contacting the company to ask why it had not been done.
Residents claim they were earlier advised to do it themselves with a nearby supply of grit, or get their family members to do so.
Elizabeth McKay (89), who lives in the sheltered housing complex, said: "It's terrible they expect us to do that.
"I have real trouble walking and can't go anywhere without a trolly, I probably couldn't even pick up a shovel full of sand.
"We're all elderly here, some people are even in wheelchairs, how do they think we could clear the snow ourselves?"
Mrs McKay's daughter Anne Lyon (66) visited on Tuesday to drop off groceries to her mum and was shocked to find herself slipping through the snow to get to the front door.
Mrs Lyon, of Broughty Ferry, said: "It's ridiculous these residents aren't capable of clearing snow, they physically can't manage it.
"They moved into sheltered housing because they are very elderly and need extra care.
"And to say that their families should do it is a piece of nonsense. They pay a lot of rent up there, why should the families have to do that?
"Some of them don't even have families."
Another resident was seen trying to go out on a mobility scooter and forced to turn back when she could not make it through the snow.
A spokeswoman for Caledonia said: "Essentially our policy in such adverse weather conditions is to encourage residents to stay indoors, ensure that they keep warm and our staff will ensure that any essential medicines or supplies can be delivered as required.
"The safety of our staff and residents is paramount in such circumstances."
smulholland@eveningtelegraph.co.uk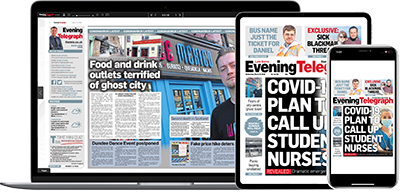 Help support quality local journalism … become a digital subscriber to the Evening Telegraph
Subscribe